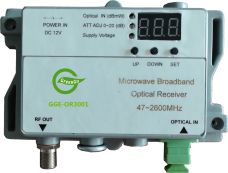 General Description
GGE-OR3001 with single RF output
GGE-OR3002 with dual RF output
GGE-OR300X series, for CATV $ SAT IF optical receiver with high performance and high index, 47~2600MHz operate bandwidth, suitable for FTTH, FTTP fiber access network. It is a low power consumption, high performance and excellent cost performance CATV $ DVB-S network ONU (Optical Network Unit).
Performance Characteristics
l High Operating wavelength 47~2600MHz, carry CATV & SAT IF signal transmit.
l Smart digital display & control monitor system, simplified operation.
l Extra low noise (3.8% modulate, -10dBm receive, CNR≥45dB).
l Metal shell, supply safe guards to opto-electrical sensing device.
l High output level can suitable for many users.
l Low power consumption, high cost performance.
l InGaP pHEM T IC technology.
Application

Technical Specification
 

Item

Parameter

Optical

Wavelength (nm)
1300~1560
Optical input range (dBm)

-20~0

Optimum input figure (dBm)

-7

Return loss (dB)

≥45

Connector type

SC/APC or FC/APC

CATV

Frequency range (MHz)

47~865

CNR (dB)

≥51

Flatness (dB)

±0.75

C/CTB (dB)

≥65

C/CSO (dB)

≥65

Output Impedance(Ω)

75

Output return Impedance(dB)

>16

RF Output Level(dBμv)

-7(75)-3001/-7(67)-3002

SAT IF

Frequency Range(Mhz)

950~2600

IF Output Power(dBm)

-50~-30

Flatness(dB)

±1.50

Output Return Impedance(dB)

>12

General Parameter

Power Voltage(VDC)

12

Power Loss(W)

≤2.5

Working Temp.(

℃

)

0~50

Storage Temp.(

℃

)

-20~85

Size(L*H*W)

130*32*90

Package

1piece/Box   20pcs/Ctn.

Net Weight(Kg)

0.35/piece

Gross Weight(Kg)

8/Ctn

Ctn. Dimension(cm)

38*29*24
---
Post time: Jun-20-2019