The acquisition of Acacia Communications by Cisco for $2.6B is an important milestone in the consolidation of the photonics landscape in many ways:
1.By doing so, Cisco, the Ethernet market leader, is entering the coherent module market for long haul.
2.Acacia's technology can allow optical transmission up to 400Gb/s and is heading to 1Tb/s. The 400ZR pluggable optics is also in highly demand for high speed connections between datacenters. It will bring pluggable optics to switches and routers. And volumes are high.
3.With Luxtera's acquisition a few months ago, Cisco has put under together one roof two of the most important Si photonics companies: Luxtera for short reach interconnect and Acacia for long haul interconnect. It will be interesting to see what the synergy of the two companies will give for Si Photonics.
4.Acacia is the third silicon photonics company Cisco has acquired. Cisco purchased Lightwire Inc. in 2012 for $271 million. It shows the interest Cisco has in Si photonics.
5.As for Luxtera, the acquisition price is quite high. In 2018, Acacia's revenue was $340M. The $2.6B bid is therefore 7.5 times the 2018 revenue. This is quite a respectable valuation for a photonics company. In the end, Cisco will have put on the table more than $3.2B to acquire two Si photonics companies in less than 1 year.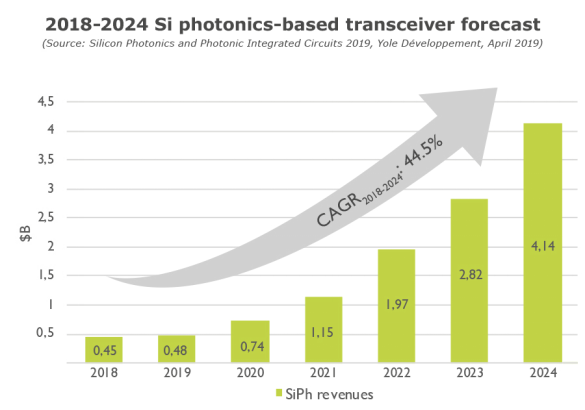 All that is even more interesting if we look at the current market trends and market value for Si photonics. In the latest Silicon Photonics and Photonic Integrated Circuits 2019 report by Yole Développement, we estimate Si photonics will have 34% CAGR from 2018 to 2024, growing from ~$455M in 2018 (1.3Munits) to ~$4B in 2024 (23.5Munits). GAFAMs are the main driving force behind the deployment of Si photonics technology. They are currently setting up networks of interconnected datacenters with local datacenters at the nodes of the mesh. They are ahead of the "traditional" telecom players by setting up their own long haul and subsea networks for datacenter interconnects. Up to now they have been relying on traditional telecom players for long distance transmission. And has been used in all kinds of Tlecom and CATV headend equipment inlcuding digital modulator and encoder.
So what will be the next steps?
With these acquisitions, Cisco will have a strong position in the market for pluggable and coherent optics. The times will be tougher for Acacia's main competitors, such as Ciena, Huawei and Nokia. As a result they could strengthen their relationship with other optical module makers.
The next question is: what will Intel do? Intel is the market leader in Si photonics shipments as the company now ships more than one million units per year into datacenters.
At the 1st Executive Forum on Silicon Photonics- Silicon photonics, beyond the tipping point! , Richard Zhang, Technical Sales Specialist for the Silicon Photonics Products Division from Intel, will give a presentation on Integrated Silicon Photonics for Future Data Center Applications, sharing Intel's latest movement and deployment strategy towards the silicon photonics market.

Preliminary agenda of the forum is released, key players like Sicoya, Hewlett Packard Enterprise, Teem Photonics and Soitec will join to share their insightful viewpoints on technologies, market on silicon photonics market. Besides, analysts from Yole Développement and System Plus Consulting will also be sharing systematic and objective report on silicon photonics market. Click and check the agenda.
This forum is a must-attend event for all SiPH professionals to learn about the global market status, to gain supportive information for business strategy and to expand business circle. Early birth rate is available till August 9th.
---
Post time: Aug-28-2019